"The Yard" open-air venue is finished and available for your next event, wedding, reception, and more. We are currently taking reservations for the 2023 and 2024 events.
The Buffalo Airport Hotel is ideal for hosting your next special event. Our newly designed open-air venue, "The Yard," includes ample party and reception space. Amenities for your event include:
• Group Rates for Hotel Guest Rooms
• Sports 365 Bar and Grill on Property
• Patio Lounge/Bar in the Yard
• Hospitality Rooms
• Indoor & Outdoor Space Available
• Sound System & TV's
• Fire Pits
• Food & Cocktail Packages Available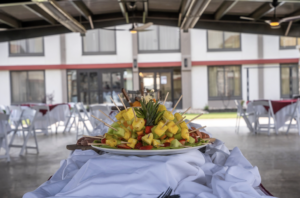 The Yard's entertainment space is open in the courtyard and has ample space for you and your guests to dine and dance the night away. Or use our patio lounge bar and the fire pits to create a unique atmosphere. Please complete the contact form below for pricing, available dates, and more information.
Special events that can be hosted at The Yard:
• Weddings
• Bridal Showers
• Baby Showers
• Engagement Parties
• Special Events
• Sports Watch Parties
• Retirement Parties
• Company Picnics /Customer Appreciation Gatherings
• Memorial Celebrations of Life
• Corporate Parties
Buffalo Airport Hotel, conference, and meeting space is available for small to large meetings. We have a variety of space options to suit your organization's needs.