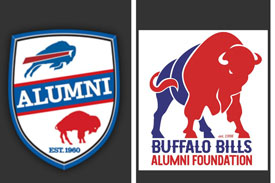 Buffalo Bills Alumni Weekend at the Buffalo Airport Hotel
Buffalo Bills Alumni Foundation's fabulous "2023 Weekend of Events" Set for July 28 and 29 during  Buffalo Bills Alumni Weekend
Come join former Buffalo Bills as they get together to support the Buffalo Bills Alumni Foundation's biggest fundraiser of the year. The 4th Annual Ralph C. Wilson Jr. Memorial Golf Classic Highlights the Weekend.
The Buffalo Bills Alumni Foundation has the reputation around NFL alumni organizations as the model NFL Alumni group and for good reason.
The Buffalo Bills Alumni Weekend of Events is unique to the Buffalo Bills Alumni Foundation, since no other NFL Alumni organization has created such an extravaganza as the Bills Alumni Weekend.
"The entire purpose of the Buffalo Bills Alumni Weekend is to raise funds so that we can support several local charities that depend on our donation to their organization" explained Buffalo Bills Alumni Foundation President David White. 
Here's the schedule for the 2023 Buffalo Bills Alumni Foundation Weekend of Events:
VIP GALA – FRIDAY, July 28, 2023 at 6 PM- 10:00 PM:  This will be the event of the year at the Seneca Niagara Events Center in Niagara Falls. Fabulous food and drinks all night long! 
4th ANNUAL RALPH C.WILSON, JR. MEMORIAL GOLF CLASSIC – SATURDAY, July 29, 2023 at 9 AM:  The beautiful Diamond Hawk Golf Course in Cheektowaga, NY will host this outstanding event where every foursome golfs with a celebrity.
"Our Alumni Weekend is also unique in the fact that our events are open to the public. Anyone can attend our VIP Gala or golf in our tournament or place a bid for our unbelievable silent auction items online "said White.
Sponsorship opportunities and ticket sales to the Alumni Weekend and general information can be obtained by calling Sandy Nuness, Event Manager at 716-868-1273 or on our website at www.buffalobillsalumni.com.
The Buffalo Bills Alumni Foundation was founded in 1998 and is comprised of past Bills players who have left an imprint on society during their football careers and want to continue molding society in a positive manner.  Not only have they changed the game, but they have touched and shaped Buffalo as we know it today. The Bills Alumni Foundation has given over $2.7 million to local Western New York charities over the past 20 years.
To get tickets visit here HERE.